Introducing the Haute Takes Podcast!
Posted by MARIKO ICHIKAWA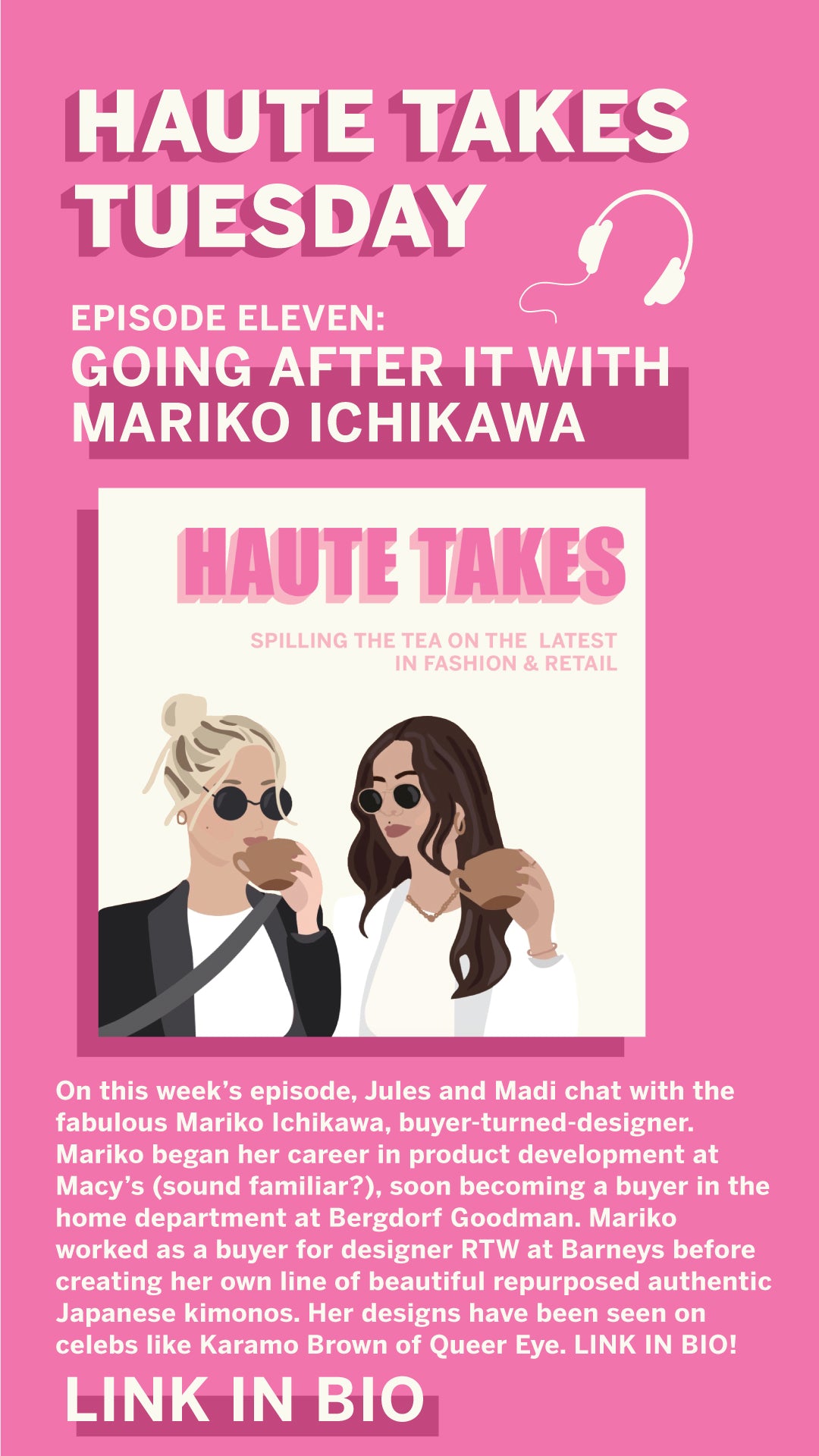 Hi Friends!
I hope all of you are well, not only amidst the continuing pandemic, but also in the aftermath of hurricane Isaias who recently ripped through the Northeast! Unfortunately, I have been without power on Long Island for the past couple of days (this is being sent through the neighborhood pizza shop's wifi). I thought that after the pandemic hit, I had made my peace with relinquishing "control" over my life's path, but just in case I was starting to forget, losing power for the past few days really drove that message home. Thank you, Universe!
This idea of balancing a strong vision while remaining flexible to what shows up in front of you is one that has occurred repeatedly in my professional life as well, and something I that discuss in this week's Haute Takes podcast interview with Julia Seelig and Madi Kahn.
The Haute Takes podcast is was started by two Gen Z coworkers turned best friends, Julia Seelig and Madison Kahn, who both have equally impressive educational backgrounds as well as starts to their own fashion careers. Born out of the uncertainty of the current global pandemic these two amazing women sought to create a forum around fashion for their generation – a place to speak candidly about their fashion experiences, connect with those going through similar struggles, and learn from others to inspire their listeners. I was particularly impressed by their insight into the need for something like this for those who are just starting out in their fashion careers. As someone who didn't receive a typical fashion or retail education, access to a podcast like this is something I would have appreciated back then.
On this week's episode of Haute Takes, I chat with Jules and Madi about my career in fashion thus far- we go all the way back to college, where I, like Madi, graduated from Penn and went on to work at Macy's. We touch upon my experiences buying both domestically and internationally, and then finally in starting my own fashion line. I am open and honest about the challenges and anxieties that I have faced throughout different points in my career, hopefully speaking directly to those who are both excited and anxious about what the future holds. So, if you know someone who is just starting out in the fashion world, or you simply miss my laugh, this pod might be worth a listen!
Click here to listen to the podcast on Spotify or Itunes and here to follow the team on instagram.
Thank you for your support and for reading this!
Reviews (13 comments)
Collection 2019
Sale 70% Off
Title for image