Did you see the new Queer Eye?
Posted by MARIKO ICHIKAWA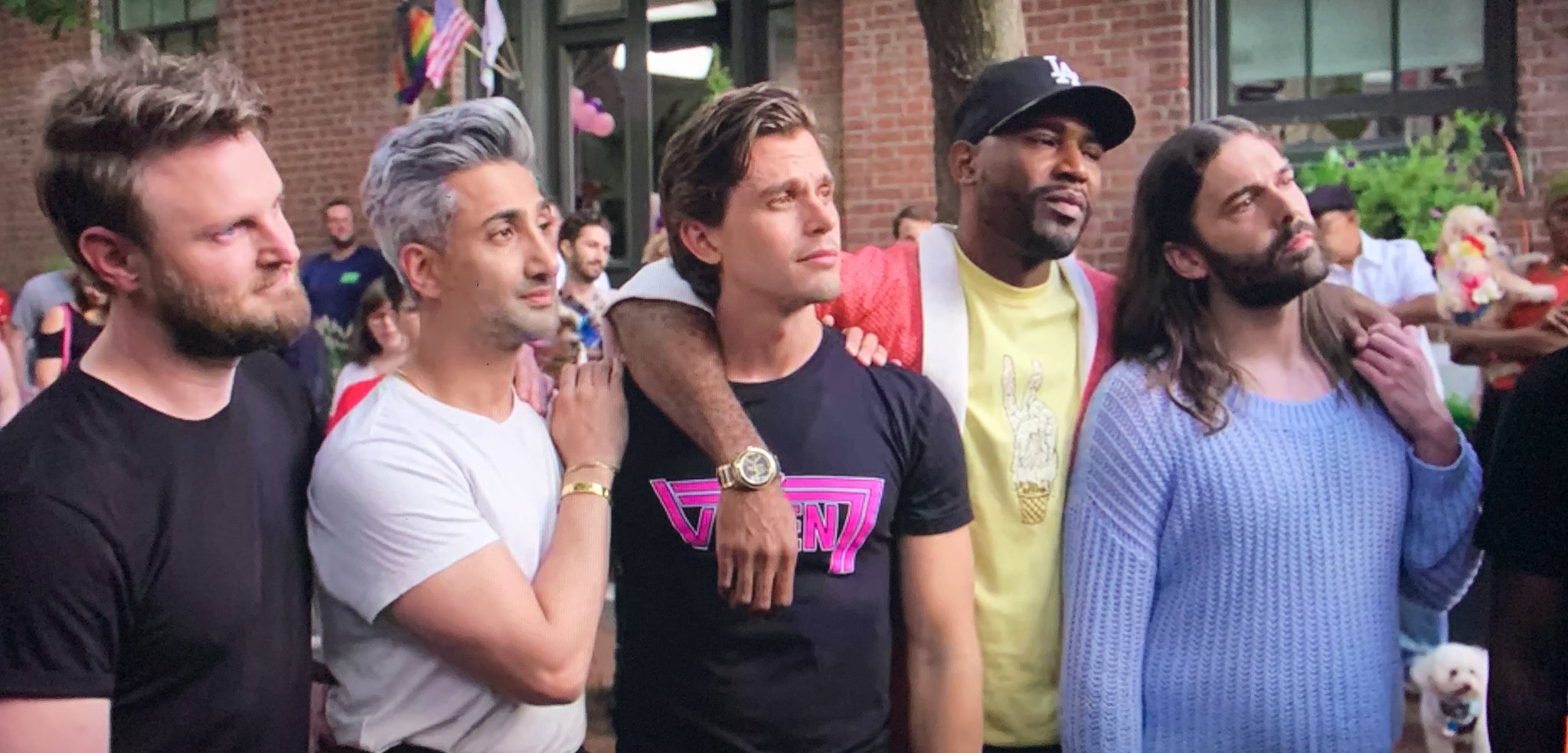 If you are looking for a 45 minute long, feel-good reminder that humanity is not lost, I encourage you all to watch the new season of Queer Eye, which dropped on Netflix on June 5th. On the show, the soulful heart of the fab five, Karamo Brown, whose wise words shed light on so many people's communication and relationship troubles this season, wears my one-of-a-kind, upcycled kimonos on the following episodes: 
Episode 2 : Groomer Has It featuring my Midi Length Red Shibori Kimono
Episode 3 : Father of the Bride featuring my Fallingwater Kimono
Episode 7 : Silver Lining Sweeney featuring my Crane Embroidered Kimono
Episode 8 : Father Knows Fish featuring my Purple Shibori Long Kimono
Episode 10 : Body Rock or Bust featuring my Wheels of Fortune Kimono
The entire fifth season takes place in my second favorite American city- Philadelphia! The city of brotherly love shares a special place in my heart as I spent my collegiate years at the University of Pennsylvania doing what I love – making art, riding on the equestrian team, and dancing as a Quaker Girl. Now, nearly 15 years later, I find myself doing similar things in one way or another and am so grateful for my health, safety and the opportunity to pursue my dreams.   
Many people have asked me how Queer Eye happened, and so I wanted to share the details. Like most good things in life, it happened with a little help from my friends!
Back when I started my company last year, I emailed everyone I knew that I was taking traditional Japanese kimonos and up-cycling them into one-of-a-kind coats and robes. A friend from my Bergdorf Goodman luxury buying days, Katie Woolley, got in touch and we caught up! It had been almost ten years since we worked together and she told me about her recently founded company called Kae Manning Studio which is focused on fashion, celebrity and wardrobe styling. Kae Manning happened to be heading up Queer Eye's wardrobe for the new season, so after calling in an assortment of styles for the boys, Katie delivered the exciting news that one of the fab five had taken a liking to my kimonos and had worn them on the show!
It was an exciting end to 2019, and then 2020 began… eventually snowballing into one of the most challenging times most of us have ever seen. I think ultimately the pandemic paved the way for positive change, and the widespread quarantining actually allowed for more bandwidth to actively support the very real and very positive movement for legislative changes promoting the equality of race and sexual orientation and gender identity in the United States. Not only were we a captive audience, but more people could actually show up to help change the world into one that we want to go back to living in.
Meanwhile, my own small business ebbed and flowed. I got into stores during my first year, but learned that some would leave their bills unpaid. I tried to help my partners grow but almost ruined relationships in the process, and I got accepted into Tranoi in Paris, but almost lost everything when the virus kept most buyers away! I frequently texted Katie for news – partially so I could see it and partially for the validation that despite all of the uncertainty in the world, this thing was still happening!
I wish I could say that I've evolved so much in quarantine that I simply "know" all the time that I'm on the right path and have complete faith in everything I do, but that's not the truth. I think everyone with their own business struggles with confidence at times, especially when it's always your decision, alone, to make. I have talked to many solo-preneurs and designers over these weeks and am certain now that the fits and starts of progress are about the only thing that is normal.
Changeability provokes questioning which ultimately helps one reflect, adapt and maybe even pivot, however the flip side of unpredictability is that it undermines confidence.  So perhaps my quarantine lesson learned is that now, more than ever it's important to stay connected with the people who genuinely care about and support you, because when some crazy shit hits the fan you may need to draw upon their reserve for yourself. So now, here I am-- cognizant of the important changes happening in our world, and not wishing to detract from any of it, but wanting to celebrate an exciting moment in my work—move over Scatter My Ashes, we're on Netflix now baby!
Reviews (10 comments)
Collection 2019
Sale 70% Off
Title for image